Mornings can be the busiest time for Mom, from preparing breakfast and making sure the child's clothes are ready, to styling the little one's hair. When you were a child, you probably often styled your daughter's hair in various styles.
Some children may be content with ponytails, but others like braids or other pigtails for a slightly more presentable and attractive look.
Not only for school, but children's hairstyles can also be used for birthday parties, shopping, or lunch.
Some of these braids are so simple, that they only take a minute or two. For a slightly more interesting style, it may take a few extra minutes.
This time Thevolume.net will discuss 5 different ways to tie girls' hair that moms can apply to toddlers' hair.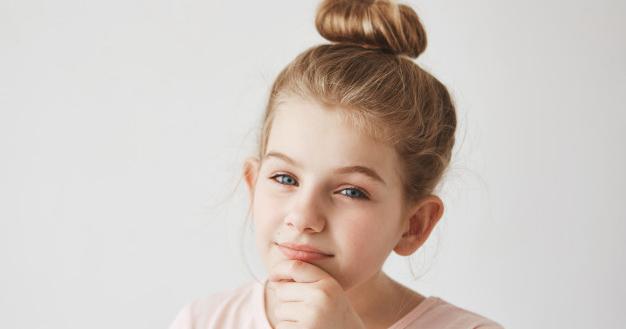 Top Knot or Bun Hair
This top knot or bun hair has become a trend among children to adults because it is very simple, and practical, and the results are neat. However, this top knot is easier to do if your child has long hair.
The way to do this is to make a high ponytail above your head, then twist your hair and make it into a bun. Secure it with an extra hair band at the base to keep the bun from falling off, or clip the ends of the hair if necessary.
Ponytail Round
A ponytail is the mainstay of every mother so that her child's hair is neat. However, if you use a ponytail every day, it might be boring for your child's appearance, namely a ponytail twist, this ponytail style only takes five minutes. Here are the steps to get a ponytail round ponytail model:
Put the child's hair into a ponytail and secure it with a hair tie.
Separate a little hair from the ponytail, then twist it around the hair tie until it is closed and pin it under so that it is hidden.
Take a little hair on each side of the ponytail, then divide it in half and make a twisting rope with each section, tying the bottom using an elastic ponytail.
Now the child has one large loop of rope and two small ropes.
Then divide the two large loops, and wrap the two halves together.
Do a loop on the right pigtail until it reaches the end. Then do a small twist on the left and twist it until it reaches the bottom.
Secure all loops with an elastic hair tie.
To make it easier, Mom can see the video tutorial below!
Two bottom pigtails
Two pigtails are a type of pigtails that is often used by preschoolers, but the same two pigtails can make a child look boring. Moreover, two types of pigtails can help tidy up the front of her hair, including bangs.
The trick is easy, namely, pull a little in front of the child's hair and then pigtail it with an elastic band. Then, divide the two pigtails, then divide the remaining two hairs below. Then unite the top ponytail with the bottom hair and make two separate ponytails.
Pigtail buns
Pigtail buns have become a hair ponytail trend that has recently become trendy. This ponytail model is almost similar to the top knot, but the difference is that it uses two pigtails. Make this pigtail model the right choice to make your child look more unique and adorable.
The method is almost the same as the top knot pigtail model, the difference is that the pigtails are two children's hair. Then twist the ponytail to the end and tie it or use clothespins. Do the same with the other part of the hair.
Cross Braid Pigtails
With crossed or X-shaped braids and a matching pink ribbon. Although it looks difficult, this pigtail model is easier than it looks. Mom just needs 8 small hair ties. Just a tip, if the hair is wet making it easier. Here are the steps to get a cross braid pigtail:
Start by making a pigtail with the hair at the top of her head, leaving it at the bottom.
Then braid those two little pigtails
Keep both braids loose
Take the two braids and cross them, then combine them with the remaining lower hair and tie them into a big ponytail.
So, those are five ways to tie a girl's hair that are practical, simple, and fast. Hair often disturbs children, especially if the weather is windy or hot, making hair more messy and greasy.
Use the five pigtails above to keep your child's hair neat during activities!