In contrast to adults who can easily say complaints to the eyes, children are quite difficult to express them. The reason is, that sometimes they don't even realize they have a problem with their eyes.
Therefore, it is the duty of parents to be sensitive to changes or discomfort in the child's eyes. There are several things that can be recognized so that parents can quickly check with a doctor.
Here Thevolume.net summarizes tips for parents to identify problems with their children's eyes so that they are immediately checked by a doctor!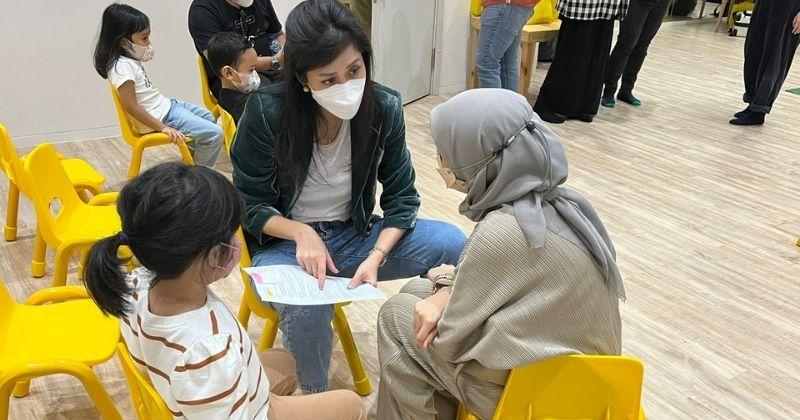 Common symptoms of children experiencing vision problems
Ophthalmologist, consultant pediatric ophthalmology and strabismus (children's eye and squint), and founder of Laulima, dr. Kianti Raisa explained the characteristics of children who may have vision problems. According to him, there are several signs that can be an alarm for parents.
"The most common symptom is that the eyes are often squinted when looking. Then if you look you have to be close to focus. Usually also like to tilt your head to see him focus," he said in an exclusive interview with Thevolume.net during Laulima's free children's eye screening event at Buumi Playscape Pacific Place, Sunday (3/7/2022).
In addition to the signs above, parents should also be aware of other signs. For example, when children are still difficult to distinguish colors at their age, which should already be memorized.
"We have the KIA (Maternal and Child Health) book, if something is not appropriate, it can be checked too. The eye is one of the five senses that supports a child's sensorium up to 80% compared to other organs. The eye is the most dominant," he concluded.
It is important to do regular screening of children's eyes
Eye examinations can actually be done by children from toddlers. Doctor Kianti said that a child's eye health could be screened for the first time in 6 months.
This can even be done from birth to check the ability of his senses. Especially for children born with special conditions.
Meanwhile, as a preventive measure, children should have regular eye screenings. According to doctor Kianti, normally, it is every 6 months to 1 year.
"Regular eye examinations or routine eye screenings are ideally once every 6 months to 1 year. There are still many who are not aware of the health of their children's eyes. Maybe parents are also worried that their children can't read or don't know letters. "Later, even though there could be symptoms mentioned earlier," he concluded.
Tips for parents to prepare their children to have the courage to check their eyes
Some children who are not used to going to the doctor may see a lot of equipment that can frighten them. Here the role of parents is to help understand the child.
"We are trying to make this screening like playing games. So they are not intimidated by the existing tools, maybe uncomfortable because they have never been seen," concluded dr. Kianti.
Parents can start introducing eye health issues to their children in various ways. Starting from storybooks, and interactive videos to storytelling.
"So when the child comes to the doctor, he is ready, not surprised. Maybe a few days before, some of the tools have been shown via video so that the child is not afraid," he said.
Those were the tips for parents to recognize problems in their children's eyes so that they were immediately checked by a doctor. Come on, don't let your child be late and only find out when his vision problem is bad.