Brushing teeth is a healthy habit that children need to do from an early age to keep their teeth and mouth clean.
Sometimes, when Mom tries to brush her little one's teeth, she will always throw a tantrum. However, you should never stop trying, because you need to always remember that building dental hygiene habits in children is very important.
Dental hygiene habits can help them understand the importance of taking care of their teeth and reduce the chances of bad breath and cavities at an early age.
Therefore, parents need to teach children how to brush their teeth regularly.
Then, how to teach a 1-year-old child to brush his teeth?
Here Thevolume.net has summarized how to teach a 1-year-old child to brush his teeth as reported by Colley Ville Children's Dentistry. Let's see below, yes, Mom!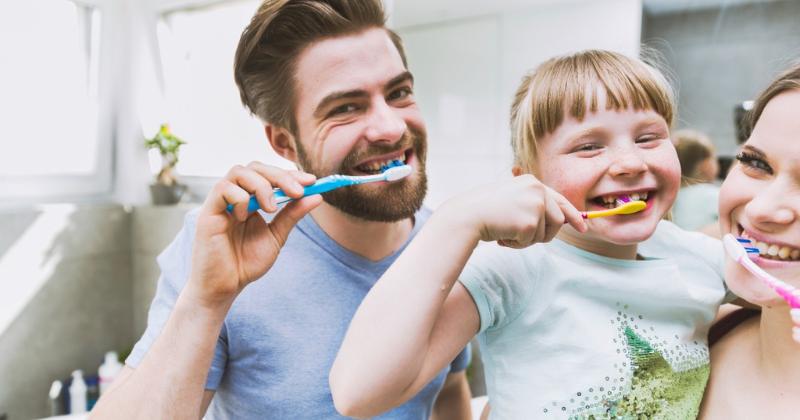 Brush your teeth together
Children love to imitate adults. If you're wondering how to get kids to want to brush their teeth? one solution is to give an example.
Mom can get used to brushing teeth together. Because brushing your teeth with your family will be more fun.
Children will see the activity positively. They will look forward to brushing their teeth because of the positive reinforcement from their family.
But avoid using forceful words to make your child brush their teeth. Give them time to adjust to this habit.
Buy a special toothbrush for children
Having a special toothbrush is one tool that will make it easier to teach children to brush their teeth. Because having a special new toothbrush will make your child excited.
Mom can go shopping for a new one together. Chances are your child will choose a colorful toothbrush with cartoon-themed bristles. The idea of ​​using a Mickey Mouse toothbrush will also keep the kids looking forward to the activity.
When you do that, make sure the fur is soft enough, Mom. So that the toothbrush you want to use will not hurt your little one's gums. Be sure to replace the brush every 3 to 4 months.
Mom can also buy her a Little Toothbrush 1-3 Years toothbrush, as the name suggests, which is specially designed for 1-3-year-olds because it has a smaller brush head than a regular toothbrush.
Tell an interesting story
Reporting from hellosehat.com, moms can try to make up stories about dental and oral health before the child goes to sleep.
For example, is the story of a tooth fairy giving a gift to a child with clean teeth. The more fun Mom tells stories, the easier it is for children to absorb information about dental health.
You can make brushing your kids' teeth a fun activity by telling interesting stories that will make them laugh out loud.
Give the child a gift
Brushing teeth regularly is a habit that is quite beneficial. But kids will still want something they can see and relate to the fun activity.
Mom can give the child an award gift that can later motivate the little one to brush their teeth.
Mom can provide decorated posters that represent good oral health. Later the little one can put a sticker on the poster to show their days when they have brushed their teeth.
When they fill out all the days on the poster, Mom can give them a toy or even a big congratulatory hug. This is important to instill discipline over time.
In the long run, children will know the importance of brushing their teeth, and they don't need a reward to enjoy the activity.
Play music while brushing your teeth
Brushing teeth should ideally be done for two minutes. Unfortunately, brushing your child's teeth for two minutes can be very tedious. In addition to being bored, children are also not able to count the two minutes themselves.
As a creative parent, Mom can outsmart it by playing your little one's favorite children's song which has a duration of approximately two minutes while brushing your teeth. This trick makes the duration of the child brushing their teeth more accurately and prevents the little one from getting bored.
By teaching children to brush their teeth while listening to their favorite songs can be more fun. Mom and the little one can dance together while brushing.
Let Moms Child play dentist
About 38% of young adults find life unsatisfactory because of oral and dental problems. Teaching children to brush their teeth through role-playing can make it more fun and can reduce oral health problems.
For example, by playing dentist, your child can use a doll and orient them to the role of a dentist. Then, when children encourage "patients" to receive good dental care, they will also put it into practice in reality. Make sure your child understands everything that happens at the dental clinic.
To make your child's toothbrush more interesting and fun, you can also let them check their teeth while playing dentist! Later the children will find a satisfying activity.
Let the child hold his toothbrush
The way to teach a 1-year-old child to brush his teeth is to let him hold his toothbrush, especially if he can grip it.
Even so, your little one doesn't know how to brush their teeth properly. Therefore, parents need to continue to guide and pay attention to it.
Those were some ways to teach 1-year-old children to brush their teeth. With this creative way, hopefully, it can be an inspiration for Mom to teach your little one the importance of brushing teeth regularly!
Starting with brushing your teeth, your little one will be more accustomed to maintaining oral and body health from an early age so that they are not susceptible to disease and are more disciplined in their daily lives.
If you have a fun creative way that you want to share with your friends, you can write it in the comments column below, Mom!