As parents, of course, we want our children to feel safe and comfortable at home. In fact, there are still many problems faced by Mom and Dad because of the lack of security at home.
Security in the sense here is, that many items are less safe for children. Especially if Mom and Dad's children have entered the age of toddlers and move more.
In addition, usually many things are built in the house for adult sizes without considering whether it is child-friendly or not. Of course, this makes children's activities more limited.
Providing child-friendly equipment at home, not only provide security and safety. But you can also train your child's independence from an early age.
Well, here Thevolume.net has summarized the tips for creating a child-friendly home that has been shared by Novelist Adithya Mulya. Take notes and listen carefully, Mom.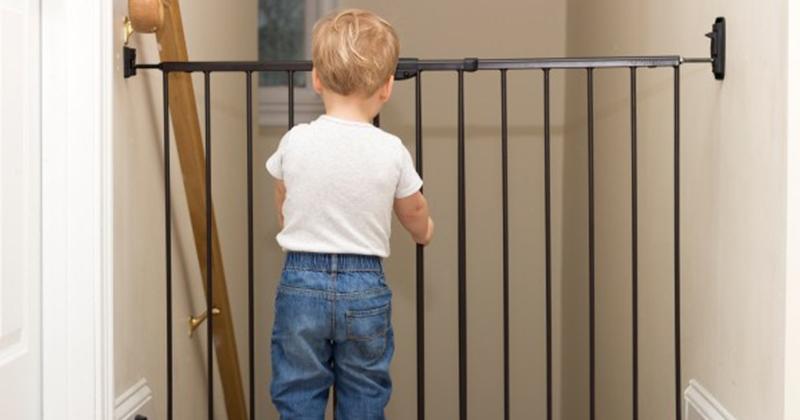 Using the safety gate
Having a terraced house is indeed an option so that the house looks more space in it. But this can also be a feat in itself for parents who have toddlers.
Especially for children who are just starting to learn to walk, the presence of stairs in the house certainly makes parents feel afraid of endangering their little ones. For that, the first tip that Mom and Dad can prepare is a safety gate.
This is a simple but effective solution to reduce accidents at home. Mom can provide a safety gate at the bottom and top stairs. The point is when the little one is on top, he will not walk alone to go down, and vice versa.
Mom can also install a safety gate at the front of the entrance. The point is that when the door is open, the child will remain safe because the safety gate has been installed.
Make sure there is no bath-up in the bathroom
Although it looks more comfortable when bathing and soaking in the bath up. Actually the bath up itself makes the house more wasteful of water and wasteful of space, Mom.
Not only that, it turns out that baths-ups are also a little dangerous for children. Aditya said, most of the deaths of children abroad occurred due to drowning in the bath up. Instead of bathing the child in the bath up, Mom can use a bath stand for the little one who still has to be bathed in the tub.
The existence of the bath stand itself also makes it easier for Mom or Dad to bathe their child. And there is no need to bend over because of the position of the tub that has been attached to the bath stand itself.
Cover the bathroom floor with rubber carpet
Is your little one starting to be independent in using the bathroom? Mom and Dad need to be more vigilant! Because if you don't pay attention, your child can run to the bathroom without Mom and Dad knowing. Of course, this will harm the child if the bathroom floor at home is slippery.
For that, the next tip is to coat the bathroom floor using a rubber carpet that is commonly used for bathroom floors. This is the right solution for everyone because it not only protects children, but also all family members.
A bathroom is also a place that is prone to accidents in the house that often occurs in children. So so that he is safer when using his own bathroom, make sure the floor is not slippery, Mom.
Provide a small chair
There are many things that are built in the house that are intended for adults so that children can't help but use whatever is in it even if it is not for their age.
An easy solution and at the same time can teach children to be independent is to provide a small chair that is suitable for the age of the toddler. Not only for him to sit on, this small chair that is available he can use to open the door knob or turn on and off the light switch which is quite high.
This can train the child to go in and out on his own and turn off and turn on the lights without constant assistance. So besides being child-friendly, this solution can also train children to learn independently from an early age, Mom.
Prepare a potty seat
At the age of toddlers, children may still get used to using diapers or diapers every day. Entering the age of one year and over. Moms can train children to use the toilet on their own and get used to being free from diapers.
Tips that Mom can do is to provide a potty seat that is installed in the toilet at home. Mom can buy potty seats of various shapes and colors to attract children's attention to get used to going to the toilet without using diapers.
The previous tips are also related to these tips, Mom. If you have provided a potty seat, Mom also needs to provide a small chair that is useful for the child to climb onto the potty seat without assistance.
Of course, this is an effective solution for your little one who is just starting potty training. Let's try it, Mom!
Add toilet washer lid
The previous tips are also related to the following tips, Mom. When your child is getting used to defecating in the toilet using a potty seat, Mom also needs to add a toilet washer lid to support her independence.
Usually, after defecating, the child still has to be cleaned of the remains of urination or bowel movements by Mom or Dad. In order to train children to be more independent, use a toilet washer lid that is easy to use for children to clean without the help of others.
This of course makes Mom and Dad's job easier when the child is able to defecate without assistance. But for the initial use, make sure it is always supervised and taught how to use it properly, Mom.
Provide children's eating utensils
The last tip is to provide separate children's eating utensils. Most parents may think that using adult and child tableware is the same. That's not the case, Mom.
This is also a solution to teach children independence from an early age. If you want your child to learn to eat on their own, don't use the same cutlery that adults use.
For this reason, it is necessary to have child-friendly eating utensils that are appropriate for their age. The point is that it is safer to use by children and of course, it attracts more attention to voraciously eating the food that Mom provides.
Mom can also store her cutlery in a place that is easy for her to reach. So that when the child will use it, he can take his own eating utensils to make Mom's work easier.
Well, those were easy and effective tips for creating a safe and friendly home for toddlers. Hopefully useful and can be applied at home, Mom!