Hearing non-stop crying at night sometimes makes Mom and Dad panic. Especially if this is your first experience. You may feel clueless and confused about what to do.
After knowing the cause of your child crying in the middle of the night, then you can provide the right treatment.
Here Thevolume.net has summarized how to deal with a fussy child and cry at night. Don't panic yet, Mom!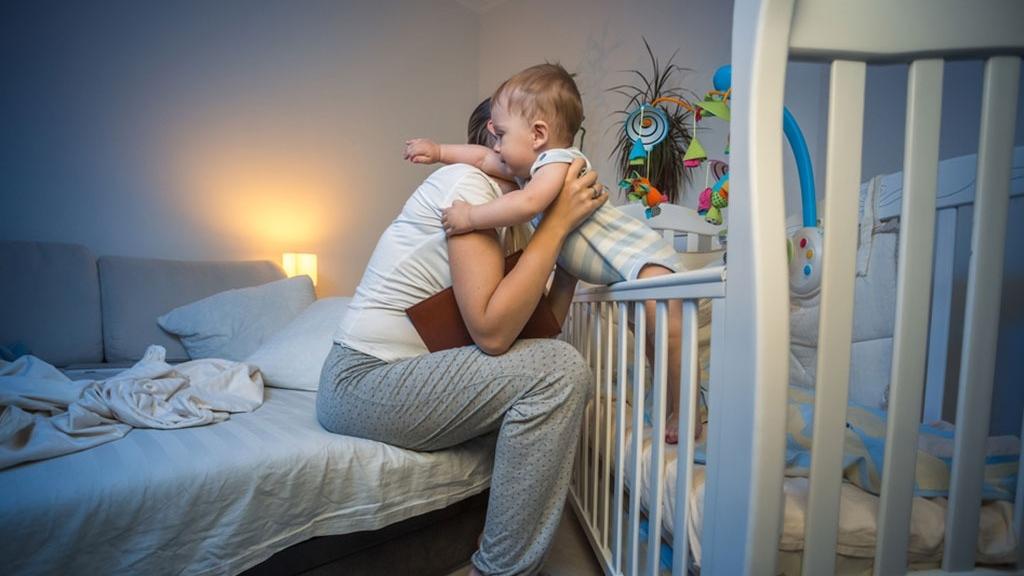 How long do children cry at night?
There are things you need to know carefully. Regarding the causes of children crying at night. Once you know, you don't have to wait long.
Early intervention can tackle the problem from the start and ensure you and your child have a peaceful night.
By using the right methods for dealing with crying, you can bring about a change in your child's behavior in no time.
Do not wait for the child to cry hysterically, immediately give a hug as early as possible so that the child feels comfortable.
But this task gets more difficult as your child gets older. If the child is fussy at night, it is necessary to observe the child's activities throughout the day before going to bed.
Children one year of age or older are more likely to go to bed, even when they are sleepy and tired.
They can cry for hours, protesting the changes that have occurred in their schedule.
If you don't take remedial steps when your child is a toddler, the crying can last until the age of three or four.
Be patient, Mom, at the age of one to two years your child may not yet be able to speak and convey what he is feeling. This may frustrate you, but trust me this will pass soon and your little one will grow up.
How to deal with a fussy child in the middle of the night because there are emotional and mental problems in the child
Avoid bringing small children into crowded and crowded environments, or fighting loudly around them.
Especially towards the end of the day. Also avoid bringing children near the television, especially when loud shows are playing near the little one, even if he can't see it, often the child can still hear it.
Children absorb their environment and come at night, excessive stimulation of the child during the day can give them nightmares that cause them to be restless or wake up at night.
Worse, this can trigger a child to fuss and cry hysterically.
Her eyes were closed, but her body was rolling on the bed crying in a very loud voice. That's the most horrific thing you'll ever see.
In cases where this is unavoidable, parents can hug a child who is feeling restless and rub the forehead gently between the eyebrows to help calm emotional problems.
Some Muslims may be able to chant the Prophet's Salawat in a child's ear in a whisper to give peace.
For others, there may also be a prayer or calming sentence that Mom can say to give peace to the little one.
The study was conducted by researchers from the University of Michigan C.S. Mott Children's Hospital for 50 babies born at 33 weeks of gestation. They were shown their respective moms' voice recordings which were played over and over again.
Apparently, this simple method is quite effective in reducing anxiety and giving the baby peace.
This still applies to Mom's children even if they are not babies anymore.
How to deal with fussy children in the middle of the night because of problems with physical disorders
When a child starts crying hysterically at night, check for common causes in his physical health condition first.
Help your child to set up a regular lifestyle or routine. Make sure your child has enough time to be active during the day so they are ready for bed at night.
Once a child has his or her own lifestyle or routine, caregivers need to be aware of and respect it, whether it's a parent, babysitter, or babysitter.
It also helps to understand the individual character of a child.
For example, how much food does the child like, what is their routine, what is their favorite music, what medications or illnesses do they currently have, and what has the child been doing during the day?
The person caring for a child may change but it is important not to change what the child is used to on a daily basis.
It is important to understand that changing a child's routine can physically and mentally irritate or anger the child.
Make sure the dinner provided is the right amount for the child. You also need to make sure you don't feed too close to bedtime.
Make it a habit to brush your teeth before going to bed so that your child is in a clean condition and that their oral health can always be maintained.
Check the child's bedroom environment. For example, make sure the room, bedding, and bed linen are clean of insects and bed bugs or other harmful influences, including harsh detergents used for washing clothes and linens.
If there is no suitable cause, re-examine the child's health condition. There may be other conditions that make him uncomfortable.
Check body temperature and check oral and dental health. In addition, also check his cock. Find out if there are other causes that make the child feel uncomfortable and vague to identify early.
That's how to deal with when your child is fussy at night. Immediately take treatment according to the cause that Mom found.