Every parent would want to have children who grow and develop optimally and healthily.
Every possible way Mom has done to get it, starting from keeping the child's diet healthy, maintaining sleep patterns, to routinely doing physical activities together,
However, there is one important thing that is often overlooked, namely keeping the house a place that is not only comfortable but also safe for children to grow up.
So how do you create a safe home for your child's growth and development?
Here Thevolume.net has prepared some tips below!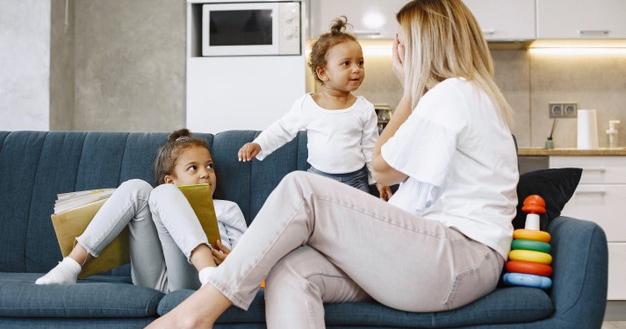 Living room or family room
The living room or family room is sometimes a place for children to play. Moreover, if there is a television, then this room can be a child's favorite place, right?
However, several things must be considered, Ma when arranging the living room or family room, to make it safer. Such as the following:
1. Keep candles and matches out of reach
It's possible for a toddler to accidentally light a match and start a fire, no matter how developed fine motor skills are. And if your little one chews wax, it's possible to choke on the wax.
Keep candles and lighters out of reach, and try a flameless LED light candle to mimic the effect of flickering candlelight.
2. Place the frame out of reach or mount it on the wall
If a child drops the frame, the glass can shatter and injure it, even in a carpeted room. So make sure you have placed the frame in a place out of reach, or mount it on the wall.
3. TV mounted on the wall firmly
If a child tries to climb up the TV stand, it is possible that the TV could fall on him. So mount the television securely on the wall, if possible.
The TV on the stand also needs to be anchored to the wall by slipping industrial-strength Velcro straps through the air vents. and connect it to the hook that Mom put on the wall.
4. Avoid leaving the cable socket open
Toddlers can easily unplug the cord from the cord socket, insert a metal object into one of the holes, and electrocute themselves.
So it's better to keep the cable outlet hidden behind furniture or if it must be open, buy a cover or cable outlet storage case.
5. Keep children away from small toys
Round, cylindrical, or oval objects that are smaller than 1 inch in diameter can completely block a small child's throat and cause fatal choking.
"These toys need to be avoided by children up to age 5," says Gary Smith, M.D., Dr. P.H., director of the Center for Injury Research and Policy at National Children's Hospital, in Columbus, Ohio.
6. Properly store items that have batteries
Be careful with button batteries, which are the type of batteries used in watches, hearing aids, and some toys. This also includes lithium batteries commonly used in remotes and children's toys.
If a child swallows any type of battery, it can get stuck in the esophagus and cause serious health problems. When this happens, take the child to the ER immediately.
7. Protect toddlers from the edge of the table
The edge of the table is especially dangerous for young children learning to walk. If you fall, your little one can suffer serious injuries to the forehead and eye area
If it's not durable, and breaks easily, be sure to put a table in a room that's inaccessible to toddlers or buy new tempered glass and edge guards.
Bedroom
A child's bedroom is an important part of a child's growth and development. In this place children sleep, play, study, and others. So it is not surprising that the bedroom is a very important part of a child's growth and development.
Make the bedroom a safe and comfortable place for children. Here's how:
1. Windows must have guards
Windows should only be able to open 3 inches, at the height of an adult's fist, or they should have window guards.
If your child's room has a low-to-floor window or a window seat, make sure you have a shield installed.
Meanwhile, if you use a casement window, you should remove the crank and store it in a place that you can easily access.
2. Use ropeless window blinds
A child's neck can get caught in the curtain ropes and be strangled. According to Parents, more than 200 young children have died from snagging on curtain ropes since 1990.
So make sure to roll up the string and keep it above the curtain. But if possible, use the wireless version of the shutter.
3. Keep balloons out of reach of children
Did your daughter just celebrate her birthday? Or just attended a birthday party? If so, your child will probably bring a latex balloon. But make sure you keep the balloon completely away from children under 8 years old.
Still reported by Parents, as many as half of the children's deaths are caused by toys choking on balloons. If a child swallows a burst balloon into his mouth, it can block the oxygen pathway, cover it like a shrink wrap, and suffocate him.
4. Always tidy up crayons after use
Even a toddler's tiny hands can break a crayon in half, and then the small size of the crayon can cause him to choke. Always supervise your child when he uses art supplies, and always tidy up after using them, Mom!
5. Using a sturdy wardrobe
Every year nearly 15,000 children are injured by collapsing cabinets. This is why all heavy furniture must be anchored to the wall or the floor.
6. Storing the piggy bank (glassy) in a safe place
A child can easily climb up Moms dresser drawer and grab the piggy bank on top of it. And once he did, the piggy bank could shatter, causing scratches or choking on coins.
Coins are of a size and shape capable of blocking a child's airway, so experts recommend keeping them away from toddlers completely. (This also applies to plastic ones.)
Kitchen
A kitchen is often a place that must be kept away from children, especially from those who are still toddlers. Because in the kitchen there are a lot of sharp cooking utensils, and hot objects such as stoves, microwaves, and ovens.
But to be safer, here are some tips that you can apply:
1. Make a fence in the kitchen
Since this room is fraught with risks, it's a good idea to keep it off-limits when no parents or caregivers are at home.
2. Bottom cabinet lock
Cleaning products such as drain openers, dishwashing detergent, and furniture polish are toxic.
So secure the lower cabinet with a lock or place the chemical in a high place, out of reach of children.
3. Keep microwaves and ovens out of reach of children
Placing the microwave and oven in a high area is best, but if this furniture must be placed in a lower area, be sure to turn it on and leave, while the child is at home.
4. Remove the stove knobs
Remove the stove knobs when Mom isn't cooking. Better yet, use a hob guard, or a plastic or metal shield attached to the front. This will make it difficult for your little one's hands to release the gas and start a fire.
If you have a four-burner stove, be sure to cook on the back burner. Even if possible, don't let the panhandles face forward.
5. Pay attention to small details
Most toddlers can reach the kitchen counter, which means they can easily flip utensils, and pick up other heavy and dangerous items that are there.
Even if the toaster or mixer is attached to the back of the table, make sure the cords are not sticking out. In addition, do not leave high stools in the kitchen counter area. Because toddlers can use it to climb into restricted areas.
6. Place dangerous cookware in locked cupboards
You may find it convenient to keep a butcher knife on the counter to make cooking easier. But be sure to keep it in a cupboard above the table.
This is especially important if you have toddlers or children with special needs. They may be more impulsive and pick up items that can pose a danger.
7. Refrigerator not secured
If your child can open the fridge on their own, consider attaching a latch. And at the very least, make sure Mom knows what's in it.
Always keep children away from choking hazard foods such as wine, glassware such as syrup bottles, and medicines on high shelves.
Bathroom
The bathroom is also included in the room that children visit the most every day, right? Well, the bathroom can also be a "minefield" for small children if it is not arranged properly. So how do you keep the bathroom safe?
Check out the following tips:
1. Dirty clothes baskets and trash cans must have a cover
It may be easier for us to empty dirty clothes or bathroom trash when we line them with plastic shopping bags.
But the convenience is not worth the risk. Toddlers can put the bag on their heads and cause suffocation.
2. Make sure the bathroom door has a guard
Reporting from Parents, pinched doors are the most common cause of amputations in children, especially those involving the fingers and thumb. This happens a lot in children aged two years and under.
Often this happens when the child is playing chase which ends with the door slamming. For that, you can buy a hook that prevents your child from opening and closing the door, or simply hang a towel on the door handle.
3. Make sure there are no puddles in the bathroom
A little water on the floor can be enough to make a child fall. When toddlers fall, they are more likely to bang their heads and faces, because they are too young to use their arms for support.
So, always keep the floor dry by mopping it, Mom!
4. Installing the latch for the toilet cover
The toilet is just the right height for a toddler to put his head in. Because the body is very heavy, the little one can fall and cannot get up. Even drowning is the leading cause of death from an accidental injury in children aged one to four years.
Always keep the toilet seat lid on, attach the latch, and remind bathroom users to hook it up.
5. Unplug the hair styling tool after use
If your child turns it on without Mom knowing, he could burn himself. The risk is even greater if the child drops it into the sink or bathtub. Because it could electrocute him.
6. Putting medicine in a locked container
If Mom or Dad keeps medicines in the bathroom, storing them in a high place doesn't always work because the child can climb onto the toilet or sink to reach them. But Mom can make sure that the medicine is placed in a container that can be locked and locked.
7. Putting toiletries in locked containers
As with pills, putting them up high is not the solution. A curious toddler can climb up to reach it.
In rare cases, some soaps or shampoos can constrict blood vessels, causing red eyes, changes in blood pressure, abnormal heart rhythms, and coma in young children.
So make sure to always lock the product using a magnetic latch or a child-safe medicine container.
Now Mom knows what are the tips for creating a safe home for children's growth and development. Home should be a comfortable and safe place. Because from this place, children can begin to learn about the world around them.