For mothers who have just had toddlers, they may always want to know about healthy recipes for their little ones who are growing and developing. Vegetables and fruits are always healthy choices, but unfortunately, many toddlers find it difficult to accept the texture and taste of vegetables and fruit.
Giving your little one juice is always easy because the child doesn't have to find it difficult to chew and has a more interesting taste.
Carrot and apple juice is the right combination of fruit and vegetable goodness, because it tastes sweet, and refreshing, and provides good nutrition.
The most important thing about this recipe is that it doesn't require a lot of ingredients. You can make this delicious and nutritious juice with just two ingredients.
Here, Thevolume.net will give you a carrot and apple juice recipe that Mom can try to make at home for your little one.
However, first, consider what the benefits are below!
Benefits of Carrot and Apple Juice for Toddler Body Health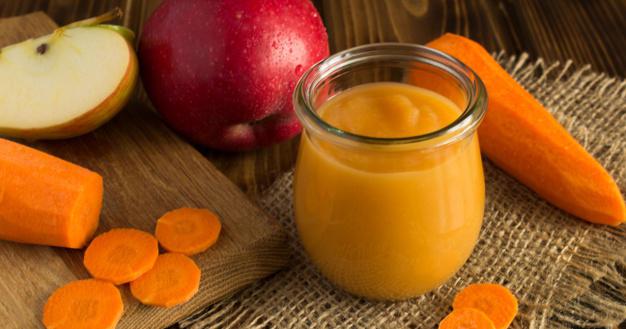 The following are some of the health benefits of carrot and apple juice for the health of your little one's body:
Carrots are rich in minerals, vitamins, and fiber, besides that they are also rich in antioxidants that also help eliminate free radicals.
In today's gadget era, toddlers' intake must contain Vitamin A which helps build good eyesight. Carrots contain Vitamin A, which will keep your child's eyesight healthy.
Mom must be familiar with the quote, 'an apple a day, keep the doctor away. Therefore, apples should be included in the diet of children. Apples are good for respiratory health, prevent brain disease, improve digestion, and prevent diabetes.
This juice contains a lot of carbohydrates, so the child will remain energetic throughout the day.
This juice also has a high fiber content, which will help with bowel movements and also keep the child full for a longer time.
The high mineral and vitamin content will help the development of muscles and bones.
This carrot and apple juice acts as an immune booster, which makes your little one less susceptible to infections and diseases.
After knowing what are the benefits of this carrot and apple juice, write down the ingredients that need to be prepared, Mom!
1. Ingredients needed to make carrot and apple juice
Mom can serve this carrot and apple juice to children aged 22 months and over as a snack menu after breakfast or a snack after dinner. Mom simply prepares the ingredients below for a serving of carrot and apple juice:
4 carrots
1 apple
1/2 inch ginger (optional)
1/2 lemon (optional)
Have you noted Ma what are the ingredients? Let's continue on how to make it!
2. How to make carrot and apple juice using two ways
Follow these steps to make carrot and apple juice using two different tools. Mom can adjust the way of making it with the tools that Mom has at home, right!
How to make carrot and apple juice using a juicer:
Wash and peel carrots, ginger, and apples. Cut it into small pieces according to the size of the juicer you are using.
Put the ingredients one by one into the juicer. Then squeeze half a lemon into the juicer.
Easy carrot and apple juice recipes are done. Serve for your little one!
How to make carrot and apple juice using a blender:
Wash and peel carrots, ginger, and apples.
Puree using until the carrots, ginger, and apples become soft. Squeeze half a lemon into a blender and blend until smooth.
Strain the puree juices over a container, you can use a juice strainer or use a food filter cloth to get the juice.
Squeeze the mixture, and the carrot and apple juice are ready to serve!
3. Tips that can be followed to maintain the vitamin content of the juice are maintained
To keep this carrot and apple juice delicious and healthy, apply the following carrot and apple juice recipe tips:
Your little one should consume this carrot-apple juice recipe within 24-48 hours of making it. Carrot juice can oxidize, and the longer it is not given it can lose its nutritional value.
Washing fruits and vegetables before use is a must!
This homemade carrot-apple juice toddler drink recipe should only be made with peeled carrots and apples. Today many vegetables and fruits are waxed for a glossy texture, and the skin can be harmful to toddlers.
So that's how to make carrot-apple juice, its health benefits for toddlers, and also tips for keeping the juice delicious and healthy. How about it, easy isn't it? Good luck with the recipe, Mom!